NEW electric honey extractors in store now
Get ready for honey harvesting season with our great new range of honey extractors in store now. Our range of extractors offers outstanding value for money and quality construction. They're all made from food grade 202 stainless steel that is machine rolled so you don't get any nasty sharp edges. The stands are also made from sturdy stainless steel for robust performance. As well as the manual honey extractors in 3, 4 and 6 frame models, we now also have electric honey extractors that make short and easy work of harvesting your honey. See them in store now!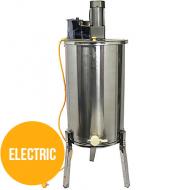 Note that these are bulky items so contact us about the best shipping price we can get for you.

Date posted: 2014-09-17 | posted by: beehives
This article does not have any approved comments.